Some Resources for Thiebaud Projects...
[
]
Every kids loves cake and candy — loves LOOKING at cake and candy. So Thiebaud is an especially popular (sorry) artist with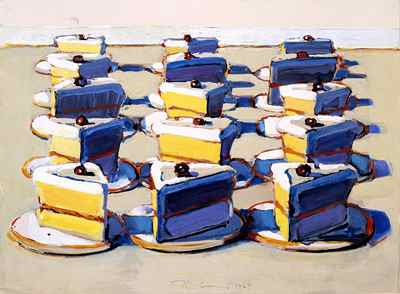 kids.
I've spotted some projects on the web that are Thiebaud themed which I've posted below.

This painting on the right is a good example of Thiebault's signature style. Apart from the yummy subject matter, notice a couple of things:
the neutral colours of both the foreground and the background (wall and table), which are separated with a dark horizon line, and a blurred white line on top.
the figures (creme pies) are colourful but the shadows are equally colourful if you look at them closely — here a very saturated purplish blue on the each pie and each plate. Very strong directional lighting. Black outlines pick out the pie details on the shadowed side. Even using one colour prints, students show the shadows.
Repetition, repetition but still lots of asymmetry. There are 3 x 5 rows of pies and each one sits on its plate a little differently, facing in a slighty different direction, so that the shadows make different strong shapes.
Don't forget to tell kids how to make a cherry shine — with the white dot!
Two examples of Thiebault inspired art
[
]
The original Wayne Thiebaud painting.....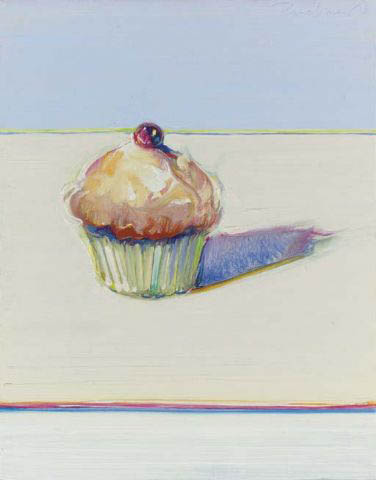 What 3rd Grade students made, photos from the Oodles of Art Blog. [http://oodlesofart.blogspot.com/2009/03/wayne-thiebaud-and-printmaking-3rd.html Oodles of Art Thiebaud Prints ]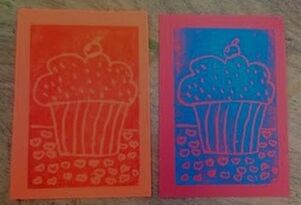 These are simple foam prints. Press with pen to make impression; then use brayer and paint.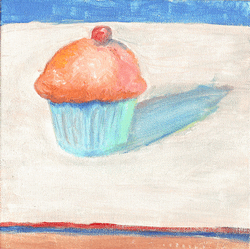 Here are some other examples, with kids using acrylic paints. These photographs come from the website for the book D.I.Y. KIDS. These would look fantastic painted onto little canvasses.